Ocasio-Cortez fumes at CNN for Trump town hall: 'Should be ashamed of themselves'
AOC says CNN platformed 'atrocious disinformation' with Trump eventt
Rep. Alexandria Ocasio-Cortez, D-N.Y., ripped into CNN for its town hall with former President Trump on Wednesday night, saying the network "should be ashamed of themselves."
"They have lost total control of this 'town hall' to again be manipulated into platforming election disinformation, defenses of Jan 6th, and a public attack on a sexual abuse victim. The audience is cheering him on and laughing at the host," she tweeted.
"This falls squarely on CNN," she wrote. "Everyone here saw exactly what was going to happen. Instead they put a sexual abuse victim in harm's way for views. This was a choice to platform lies about the election & Jan 6th w/ no plan but to have their moderator interrupted without consequence."
At the town hall moderated by CNN's Kaitlan Collins, Trump continued to claim the 2020 election was rigged over Collins' protests and defended his conduct around the January 6 Capitol riot. He also was pressed about abortion, his promise to build a border wall, the Russian invasion of Ukraine and other issues.
TRUMP CLAIMS RAPE ACCUSER A 'WACK JOB' AND VERDICT HE WAS LAIBLE FOR SEXUAL ABUSE A 'RIGGED DEAL' AT TOWN HALL
Ocasio-Cortez also appeared on MSNBC on Wednesday and continued to rip into CNN for the event, saying it promoted "atrocious disinformation."
"I think it was a profoundly irresponsible decision," she said. "I don't think I would be doing my job if I did not say that… It was shameful."
The announcement Trump would appear on CNN, a network with whom he famously feuded throughout his presidency, had already raised eyebrows on the left, and some network staffers were reportedly angry with how the event transpired Wednesday night. In front of a mostly Republican crowd in New Hampshire, Trump's comments were often met with supportive laughter and applause; at one point, he quipped Collins was a "nasty person" to cheers.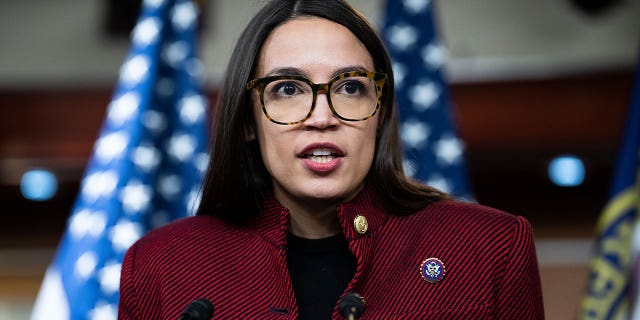 Ocasio-Cortez was one of many outspoken liberals to vent over Trump getting a platform Wednesday night. Some protested Collins didn't do enough to fact-check him or was placed in an untenable position given the partisan audience, while others said CNN CEO Chris Licht was nakedly placing ratings above journalism.
"The format was impossible and CNN's bosses should have known that. Chris Licht is rapidly becoming the Elon Musk of CNN," MSNBC contributor Charlie Sykes fumed.
The town hall, held at Saint Anselm College in New Hampshire, came one day after the jury in New York City found Trump liable for sexually abusing writer E. Jean Carroll in an upscale Manhattan department store nearly three decades ago, but not liable for the rape Carroll accused Trump of committing.
Along with trashing the verdict, Trump claimed that Carroll was "a wack job." The former president also reiterated that he had "never met this woman" and claimed that "this is a fake story, a made up story."
CNN BLASTED BY ITS OWN ANALYST FOR TRUMP TOWN HALL: 'GUY WHO TRIED TO GET ME KILLED'
Trump was questioned repeatedly about Jan. 6 as well. Some of those taking part on the assault on the Capitol were chanting "hang Mike Pence." The then-vice president was performing his constitutional duty of overseeing the certification, and along with lawmakers temporarily fled for safety.
Asked if he owed his former running mate an apology, Trump answered, "No, because he did something wrong… he made a mistake."
Trump reiterated his claim that Pence had the constitutional authority to send the election results back to the states, saying "Mike had the right to do it."
Trump is making his third bid for the presidency after winning in 2016 but losing re-election to Joe Biden in 2020. Polls show him as the frontrunner in the current GOP field.
Trump's team expressed glee about how the CNN event went. Spokeswoman Liz Harrington said he was "masterful" and praised Trump as handling the "Fake News… with ease."