NASCAR driver Akinori Ogata's truck goes up in flames during practice round
NASCAR is making its return to North Wilkesboro Speedway after nearly 30 years
Driver Akinori Ogata's practice round did not go according to plan Friday.
The Japanese driver's No. 46 Toyota burst into flames as he prepared for the NASCAR Craftsman Truck Series.
As Ogata headed into turn three, the truck started to bellow smoke. A short time later, the truck was engulfed in flames
Ogata was eventually able to bring the truck to a stop as caution flags waved at the track in North Wilkesboro, North Carolina.
CLICK HERE FOR MORE SPORTS COVERAGE ON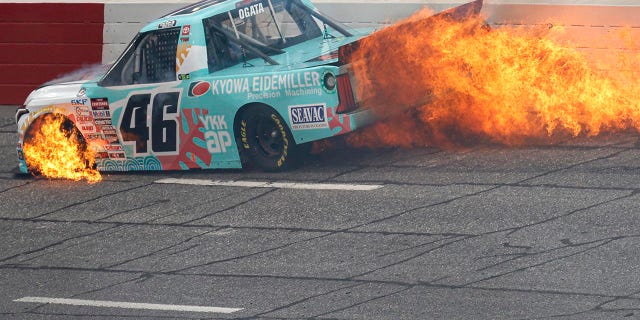 Ogata was able to quickly get out of the truck after it came to a halt. He did not appear to have any major injuries.
NASCAR STAR ROSS CHASTAIN 'HAS SOME THINGS HE'S GOT TO CLEAN UP,' HIS TEAM OWNER SAYS
Emergency responders checked on Ogata and helped put out the flames.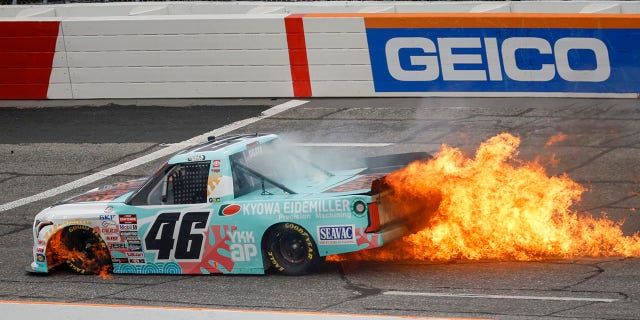 Ogata's team, G2G Racing, took to Twitter and wrote that he had been "checked and released from the Infield Care Center."
The damaged truck was later towed off the track.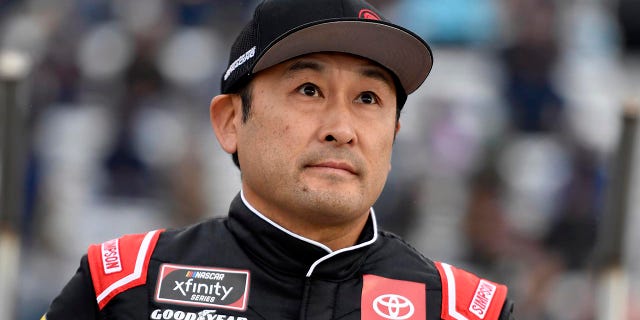 It is unclear what ignited the fire, but one commentator theorized "an oil line … must have broken or just come loose."
Earlier this season, Ogata finished seventeenth at Atlanta Motor Speedway with G2G Racing.