Jay Leno won't complain about horrific accidents: 'I've got a lot to be grateful for'
Comedian Jay Leno was involved in a motorcycle accident two months after suffering third-degree burns to his face in garage fire
Jay Leno is fueled with happiness.
The 73-year-old comedian revealed his positive outlook on life with Fox News Digital months after suffering third-degree burns to his face from a gasoline fire at his Burbank garage.
Two months later, Leno was involved in a motorcycle accident in Las Vegas where he broke multiple bones. When asked why he never complains about any of his injuries or the extensive recovery process, his answers were simple.
"First of all they're accidents. If they were deliberate, I would be complaining," he said before joking, "Ya, the guy deliberately set me on fire."
JAY LENO RECALLS MOMENT HIS 'FACE CAUGHT ON FIRE' DURING GARAGE BLAZE WHEN HE SUFERED SERIOUS BURNS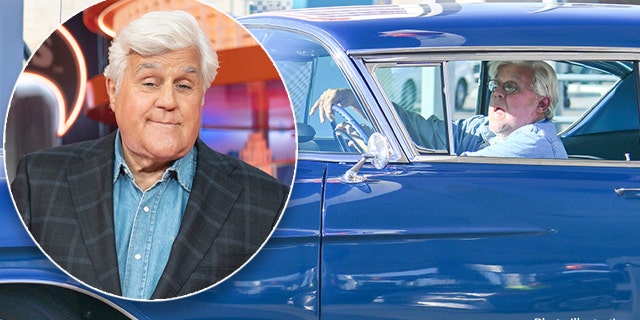 When Fox News Digital caught up with Leno on the red carpet for the "Hot Wheels: Ultimate Challenge" premiere, the car connoisseur found a silver lining in the last few difficult months.
"Look, I've been extremely lucky in my life, you know, and even though the accidents weren't fun, I was still pretty lucky. I didn't lose an eye, I'm not horribly disfigured … well, just regular disfigured.
"I've got a lot to be grateful for."
JAY LENO SHOWS OFF 'NEW FACE' AFTER SUFFERING THIRD-DEGREE BURNS
The former late night talk show host suffered "significant burns to his face and hands" in addition to scarring on his chest when flames erupted while he was working underneath one of his vehicles on Saturday, Nov. 12.
Leno said in a statement
to Fox News Digital shortly after the accident, "I got some serious burns from a gasoline fire. I am OK. Just need a week or two to get back on my feet."
Leno had at least two surgeries during his 10-day stay at the Grossman Burn Center in West Hills, one of which was a "surgical excision and grafting procedure." He also required the use of a hyperbaric chamber to help provide better blood flow and decrease bacteria.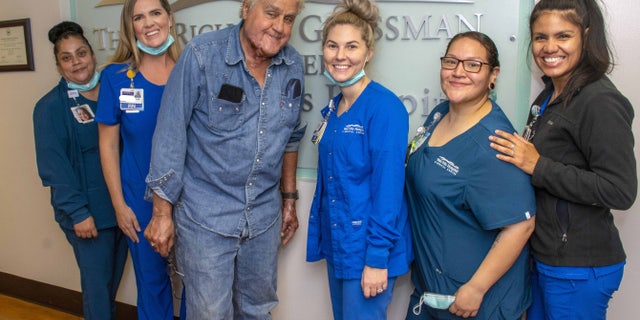 One of those surgeries included doctors creating an entirely new ear for Leno.
When asked if it was true he had a new facial feature, Jay was excited to share, "Oh ya it's a brand-new ear. When in a fire, ear is just flesh … they kind of made a new one for me."
Only months after he was released from the hospital, Leno was "knocked off" his motorcycle and broke two ribs, his kneecaps and collarbone.
JAY LENO GIVES HEALTH UPDATE AS HE'S SEEN BEHIND THE WHEEL FOR THE FIRST TIME AFTER BEING RELEASE FROM HOSPITAL
He's still somewhat recovering.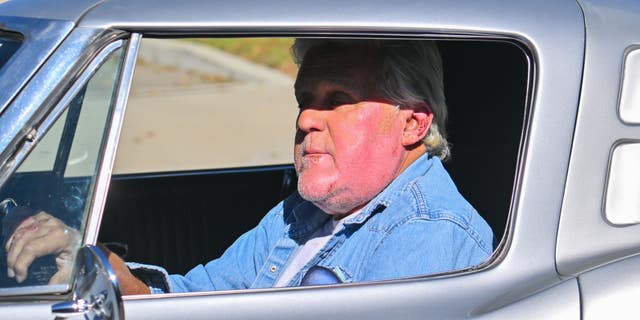 "First of all, in Hollywood – it's only how you look, nobody cares how you feel like," he joked. "I mean I still have a broken collar bone, two broken ribs and two cracked knee caps, but I'm getting around."
Leno recalled the motorcycle incident in January, and said that he went out for a test drive on a 1940 Indian motorcycle. He recognized the smell of a gas leak and maneuvered through a different road.
CLICK HERE TO SIGN UP FOR THE ENTERTAINMENT NEWSLETTER
"I turned down a side street and cut through a parking lot, and unbeknownst to me, some guy had a wire strung across the parking lot but with no flag hanging from it," Leno told the Las Vegas Review Journal.
"I didn't see it until it was too late. It just clothesline me and, boom, knocked me off the bike. The bike kept going, and you know how that works out."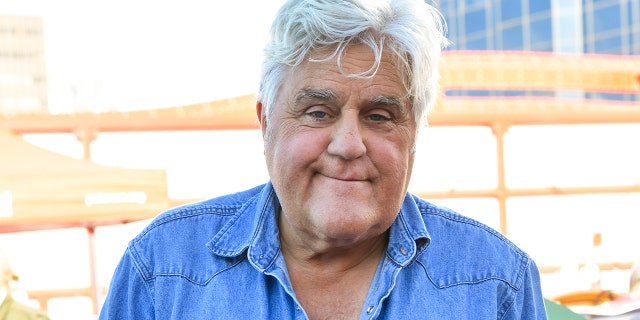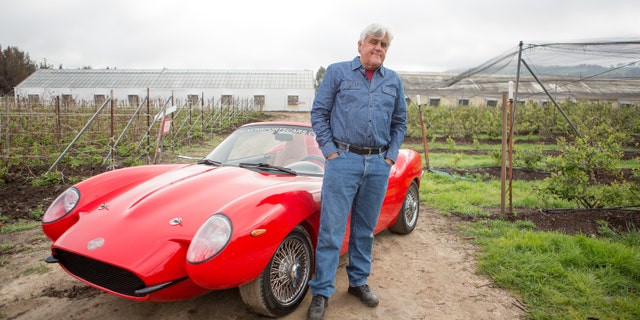 Leno has long been a connoisseur of car culture. He worked as a mechanic while rising through the ranks as a stand-up comedian, and he now owns more than 280 unique vehicles.
The impressive collection of rare, antique and vintage cars is reportedly worth from $50 million to $100 million, but estimates vary due to predictions in what some rare cars could sell for.
On "Jay Leno's Garage," Leno chats with car enthusiasts about favorite makes and models, in addition to showing off his prized collection of cars, motorcycles and all-terrain vehicles.
He'll suit up as a celebrity judge for the new "Hot Wheels: Ultimate Challenge" series, where gear heads transform cars into real, life-sized versions of the No. 1 selling toy in the world.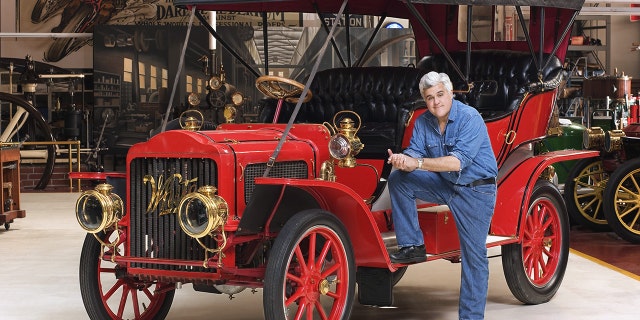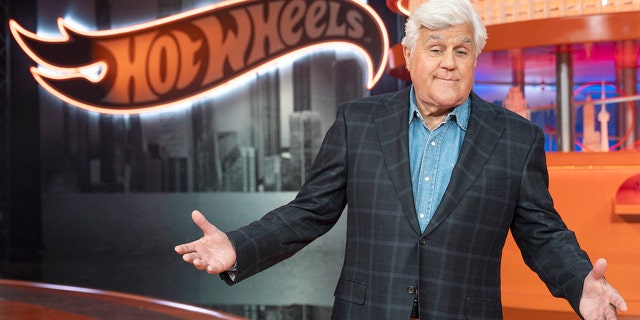 Leno joining the show seemed like a no-brainer.
Guest judges also include Anthony Anderson, Terry Crews and Joel McHale, to name a few.
"I'm kind of known as a car guy, and I've got a YouTube channel and a car show, a line of car products," he said. "It's something I like to do. It's my hobby."
He added, "We used to do it on 'The Tonight Show' all the time, so it seemed like a good fit."