Good Samaritans fight off irate man attacking highway patrol cop
California Highway Patrol praised intervention of 3 motorists
A brawl between a California Highway Patrol officer and a suspect ended thanks to the intervention of some good Samaritans.
"I punched the guy in the ribs, but it felt like nothing," Everado Navarro, one of the bystanders who intervened, told KCAL. "He just continued grabbing the officer down. At that moment, my only concern was to avoid the person from grabbing the officer's gun."
The fight happened May 19 at around 5 p.m. in Santa Ana. The suspect reportedly had been yelling at drivers near the on-ramp to the freeway, and two officers had approached him to issue a warning.
One officer left, leaving the other alone to face the suspect, who picked a fight and quickly overpowered the officer, pinning him to the ground, police said.
CAR RAMS INTO GATE OF UK PRIME MINISTER'S RESIDENCE, MAN ARRESTED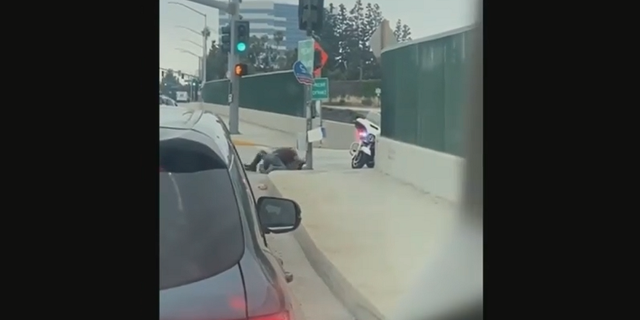 That's when Navarro pulled over and got out of his car to assess the situation. As soon as he realized the officer was in trouble, Navarro jumped in to help.
"When I actually get there, for a split second I didn't know what to do," Navarro said, explaining that he had thought the officer was trying to make an arrest. "I jumped out of my car because of him, but in the end, I was thankful everybody was OK, including the suspect."
FORMER GEORGIA OFFICER ACCUSED OF UNLAWFULLY DIRECTING POLICE DOG TO ATTACK MAN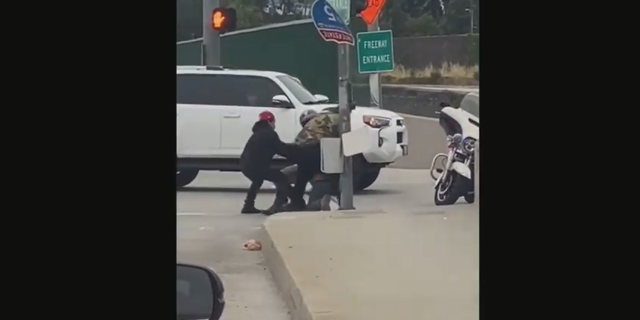 Navarro struggled to get a handle on the suspect until two other men came to his aid. The three men pulled the suspect off the officer, who only suffered minor injuries to his thumb while the suspect was hospitalized for injuries to his face, according to CBS News.
"He said thank-you at least five, six times," Navarro said. "I could sense that he was being very honest from his heart that he knew what type of risk he was going through."
MACHETE-WIELDING NYC PROFESSOR FACES CHARGES AFTER CHASING REPORTER, CLAIMING SHE'S A VICTIM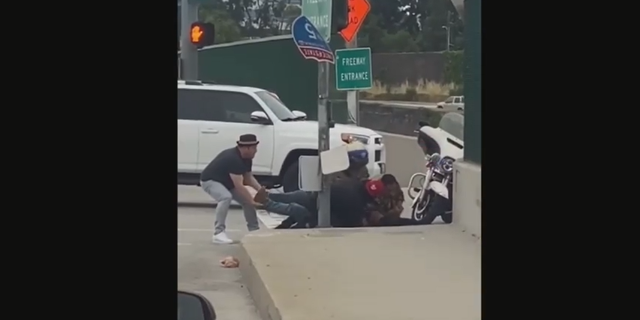 CHP spokesperson Anselmo Templado praised the three men, noting the situation could have had a worse ending if they hadn't stepped in.
"It's not very often that you see something like that. Usually, it's just people recording and standing by. But I just want to thank those three good Samaritans for helping out our officer," Templado told Eyewitness News.
The suspect remains at Orange County jail on assault charges and resisting arrest.