From 'Yellowstone' to 'Bodyguard': Kevin Costner's top on-screen love interests
Kevin Costner-led Western 'Yellowstone' will air the second half of its fifth and final season in November
Kevin Costner has acted alongside many leading ladies throughout his 40-plus years in the business.
Some of Costner's most memorable roles are with actors playing his romantic partners in movies like "Tin Cup," "The Bodyguard," "Dances with Wolves" and "Field of Dreams."
After five seasons, several spinoffs and endless drama, "Yellowstone," led by Costner, is officially coming to an end.
Here's a look at his on-screen loves on the Western and beyond.
'YELLOWSTONE' FANS BEG KEVIN COSTNER FOR FILMING UPDATE AS HE PROMOTES NEW MOVIE
'Yellowstone' — Wendy Moniz and Piper Perabo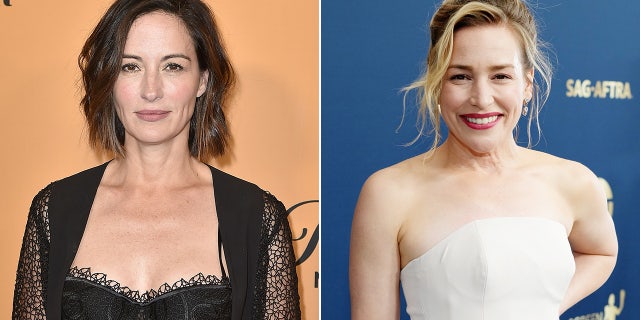 Costner's character on "Yellowstone" has had more than a few love interests, starting off the show in a casual romantic relationship with the governor of Montana, Lynelle Perry, played by actress Wendy Moniz.
"We definitely had a natural ease with each other out of the gate, and it came across on screen it seems," Moniz told Us Weekly in April 2023. "I think sometimes people have chemistry naturally, and sometimes they don't and have to fake it, and it still works. It's that intangible thing."
When it comes to working with Costner, Moniz explained the two work well with one another, saying being on set with him "has just been really easy and a pleasure." "We find humor in our scenes together and playfulness, and I think that helps with the dynamic too," she explained.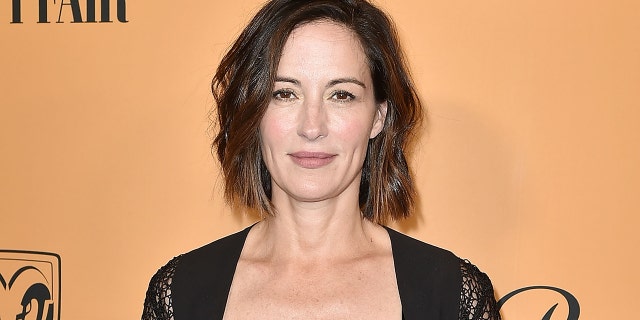 As both their characters became more busy in their own lives, the romance between them faded, and by the time the fourth season began, the spark between them had gone out — right in time for Piper Perabo's character Summer Higgins to make her entrance.
The two characters first met when Summer was protesting outside the office of Costner's character's son and he had her thrown in jail. He later bailed her out and started a friendship with her which later turned into a romantic relationship.
"The love story is kicking into gear on 'Yellowstone.' I know a lot of people watch it for the cowboys and the ranch, but I watch it for the love story," she told Entertainment Weekly in March 2022. "We're turning up the heat
.
It's been a hard couple of years. Let's turn up the heat for a minute."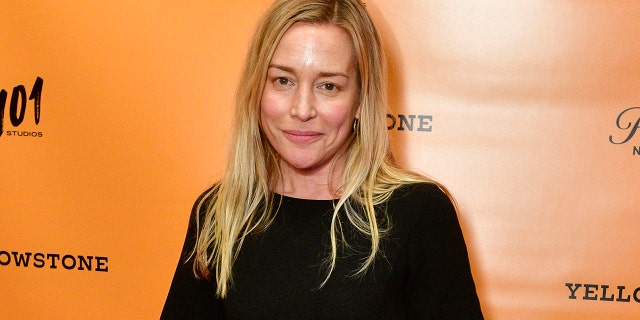 As for Moniz, she has no hard feelings toward Perabo's Summer, telling Us Weekly, "I think that kind of friction makes for good TV and fun storytelling."
'The Bodyguard' — Whitney Houston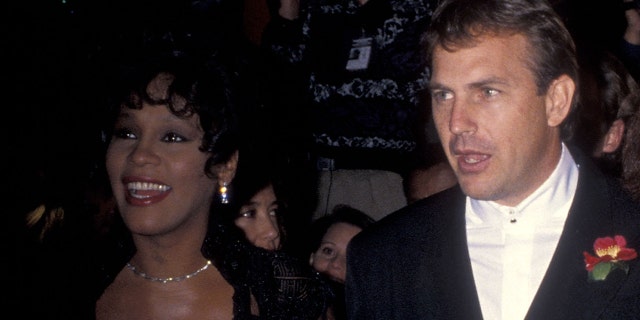 Whitney Houston and Kevin Costner came together to star in the 1992 film "The Bodyguard." The movie followed Houston, who played Academy Award-winning actress Rachel Marron and hires Costner's character, former Secret Service agent Frank Farmer, to protect her when she begins to get death threats from a stalker.
The two grow closer as Rachel begins to understand the seriousness of the situation and begins to trust Frank more throughout the movie. Fans left the theater brokenhearted when the two characters went their separate ways at the end of the film, knowing their relationship would never work out, but not before one last kiss at the airport.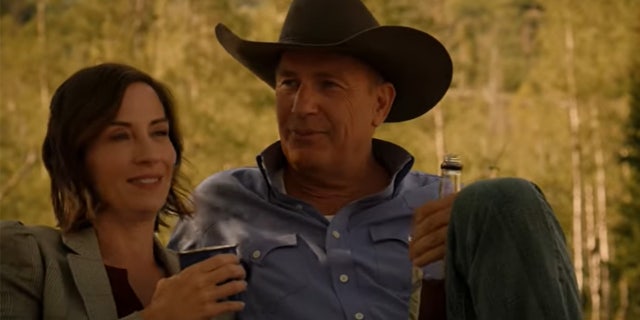 In real life, the two became very good friends, and Costner spoke at the singer's memorial service after she died from accidental drowning in February 2011.
DIONNE WARWICK RECALLS ADVICE SHE GAVE 'YELLOWSTONE' STAR KEVIN COSTNER BEFORE HIS EULOGY TO WHITNEY HOUSTON
"The Whitney I knew, despite her success and worldwide fame, still wondered, 'Am I good enough?' 'Am I pretty enough?' 'Will they like me?' Whitney, if you could hear me now, I would tell you, you weren't just good enough, you were great," Costner said.
"You sang the whole damn song without a band. You made the picture what it was. A lot of leading men could have played my part. A lot of guys — lot of guys — could have filled that role. But you, Whitney, I truly believe were the only one that could have played Rachel Marron at that time.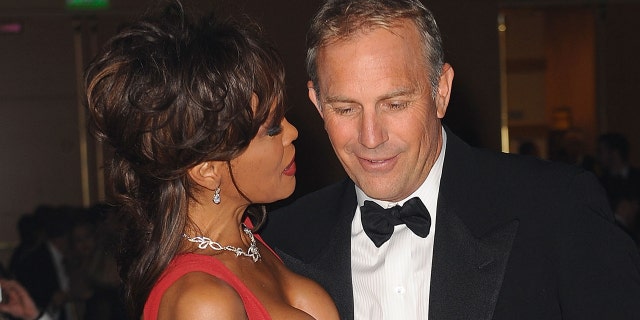 "You weren't just pretty. You were as beautiful as a woman could be. And people didn't just like you, Whitney. They loved you," he continued. "So, off you go, Whitney, off you go. Escorted by an army of angels to your heavenly Father, and when you sing before Him, don't you worry. You'll be good enough."
In 2018, Costner appeared on "Good Morning America" to speak about the 25th anniversary of the movie, attributing a majority of the film's success to "little songbird Whitney." He spoke about their friendship, saying, "I'm always careful about the things I do say about her because some things are just yours."
"I thought she was so beautiful, and I thought, 'Well this is the girl for me.' Not everyone thought that … but I did," he said. "When we were done, it was a really important moment in her life and her career, and we'll always be locked together that way."
'Message in a Bottle' — Robin Wright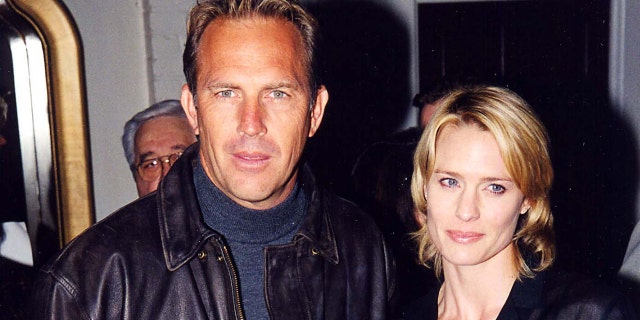 Costner and Robin Wright played love interests in the 1992 romantic drama "Message in a Bottle," based on a novel with the same name written by Nicholas Sparks.
In the movie, Wright plays journalist Theresa Osborne, who finds a bottle buried in the sand while walking along a beach one day. Inside the bottle she finds three letters addressed to Catherine from a man who loves her. After showing it to her colleagues at the newspaper, the letters are published, and Theresa begins the journey of finding the man who wrote the letters.
Eventually, she is able to find him and goes to visit him with the intention of getting more information about the letters but falls in love with him instead. Garrett Blake, played by Costner, wrote the letters to his wife who had died. Rather than tell him she published the personal letters, Theresa keeps it a secret out of fear he would leave her.
After a series of events, Garrett finds the letters and storms off. But they got back together a few months later. While on a sailing trip, Garrett drowns while saving a family during a storm, leaving Theresa devastated. She then finds Garrett's final letter to Catherine, asking her for her blessing to date Theresa.
"Message in a Bottle" is often referred to as Costner's best romance movie.
Rene Russo — Tin Cup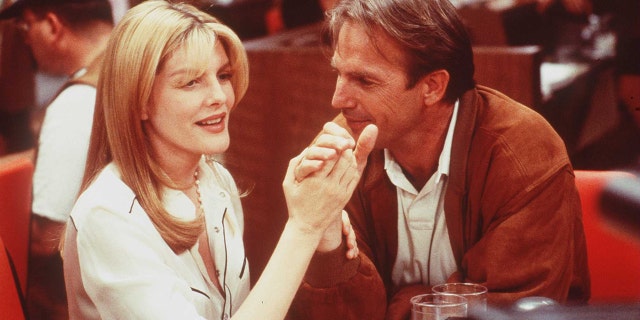 Rene Russo and Costner starred as unlikely love interests in the 1996 movie "Tin Cup." At the start of the film, Russo's character is Costner's character's therapist, who he pursues to get revenge on her boyfriend after he embarrassed him on the golf course.
Over the course of the film, Costner's character Roy begins to develop true feelings for Russo's character Molly, who begins to realize her boyfriend is not a good guy.
The two start working together to help Roy get his revenge by beating their rival in golf at the U.S. Open. While Roy doesn't end up winning the competition, he gets the girl, and the movie ends with the two of them sharing a passionate kiss.
CLICK HERE TO SIGN UP FOR THE ENTERTAINMENT NEWSLETTER
"Rene is, she's just a — I'm going to say a word and now, all the sudden, the Twitter's gonna fly — but she's like this. It's a term of endearment, but she's like a great broad," Costner told Access Hollywood about Russo in 2014. "She's so easy around men and around women. She's a really unthreatening person. She makes guys feel. She makes every guy feel like they have a chance, and nobody does. … She's very, she was a good screen partner."
Bull Durham — Susan Sarandon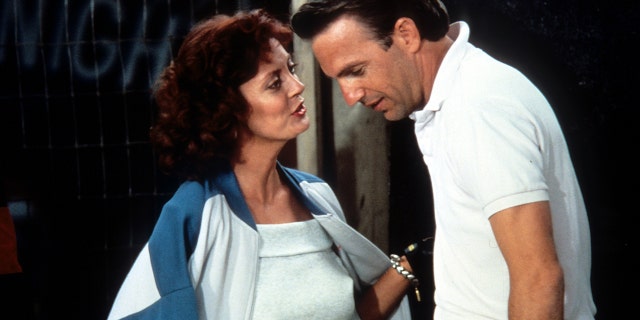 The relationship between Susan Sarandon's Annie Savoy and Costner's Lawrence "Crash" Davis starts out in a complicated way, and he initially turned her down only to realize she's his perfect match when she's in a relationship with his friend and teammate Ebby Calvin "Nuke" Laloosh.
Annie is a baseball groupie who commits herself to a different baseball player each year who she also trains. As Crash turned her down, she sets her eyes on Nuke, who she and Crash begin to train together.
Over the course of training him, the two develop feelings for each other. And after a series of events, she and Nuke break up, giving Crash a chance to pursue a relationship with her. At the end of the movie, Annie tells Crash she doesn't want to bounce around to different men each year. And the movie ends with them dancing together.
"She's a woman, and she is every inch that," Costner told Access Hollywood about Sarandon in 2014. "And she is graceful about it. … She's got it, man. … She's timelessly hot and she's special. Sue is special.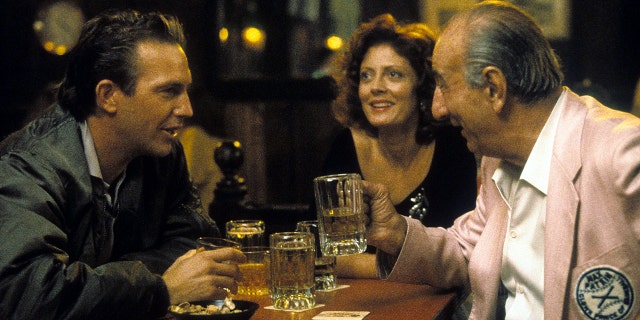 "I don't call Sue, but if I really thought I needed something fixed or something felt broken or I was confused about something, I have no doubt that she would take that call and, No. 2, that she would have a real answer for it," he added. "She's very smart, and she's timeless to me."