Cruz rebukes Biden's handling of the US-Mexico border as Title 42 expires: 'This is your fault'
Sen. Cruz took to Twitter to blame President Biden, Vice President Harris and congressional Democrats for the crisis at the southern border
Sen. Ted Cruz, R-Texas, shared a pair of videos to Twitter late Thursday evening showing what he found during a visit near the Rio Grande along the United States-Mexico border in Brownsville, Texas.
In the first video, Cruz is standing next to a barbed wire barrier that runs along the border when he points toward Mexico, noting there are "over 22,000 illegal immigrants right across the river."
"Joe Biden, this is your fault," Cruz said in the video, scolding the president.
"The people who are killed crossing illegally, that is your fault," he continued. "The women who are sexually abused crossing illegally, that is your fault. The children who are brutalized crossing illegally, that is your fault. The people who are dying of drug overdoses — over 100,000 last year — that is your fault."
MAYORKAS SAYS 24,000 BORDER AGENTS READY TO STOP MIGRANT SURGE AS TITLE 42 EXPIRES: 'BORDER IS NOT OPEN'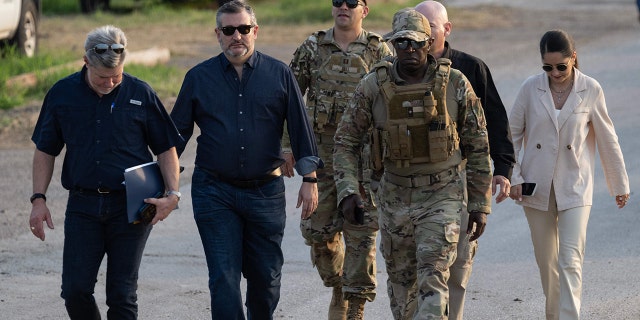 Cruz urged the president to take responsibility for the current border crisis, demanding that he visit the border so he can see the madness first-hand.
"Come down here President Biden. Stop hiding in the basement, stop pretending this misery is not your fault, stop it. This is not humane, this is not compassionate. This is cruel," Cruz said.
"You can see the lights, you can see a fire," Cruz explained. "If you look, they are waiting for Title 42 to expire, and then the invasion we are going to see is going to be massive."
He continued: "We already have the worst illegal immigration in the history of our country and in just a few hours it's getting worse."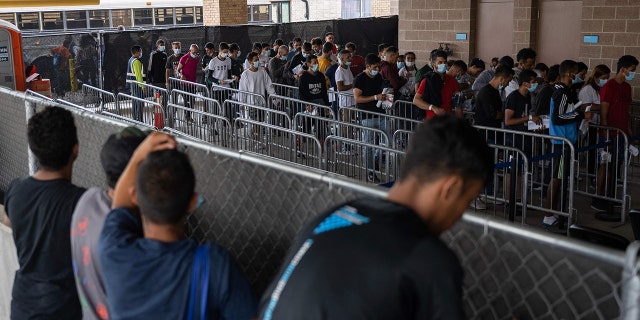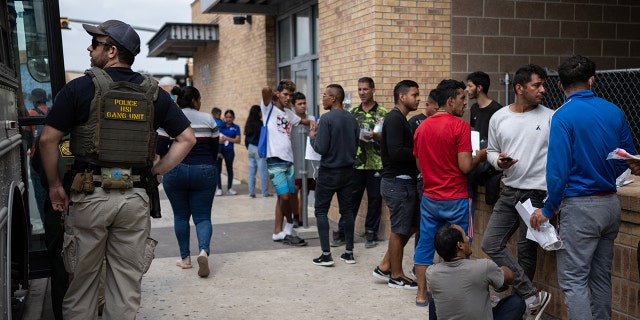 In a second video, Cruz walked along a road near the Rio Grande and said he found a sandal belonging to girl who is "no more than 5 or 6 years old."
FEDERAL JUDGE BLOCKS BIDEN ADMIN FROM RELEASING MIGRANTS WITHOUT COURT DATES AS TITLE 42 EXPIRES
"She might even be younger than that," he continued, describing the current immigration situation as "horrific and cruel." Cruz also said blame for the border crisis should rest squarely with President Biden, Vice President Kamala Harris and "every congressional Democrat."
The video was shared on Twitter just 30 minutes before the Title 42 public health order is set to expire at 11:59 p.m. on Thursday, May 11.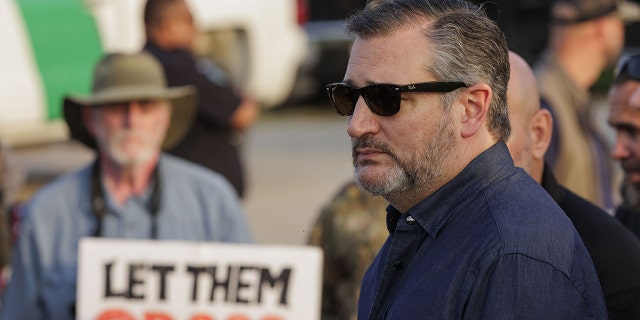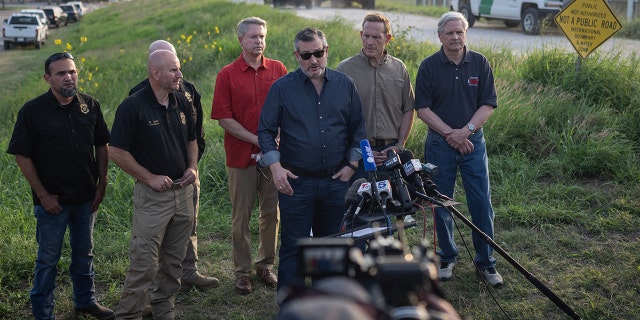 The Republican added: "Biden brought back catch and release, he halted construction of the wall, & he ended the Remain in Mexico policy. Now Biden has let #Title42 expire!"
"There is a full-blown invasion unfolding, and Texas is paying the price," Cruz added in a third tweet late Thursday evening, again blaming President Biden and Department of Homeland Security Sec. Alejandro Mayorkas.
MAYORKAS ISSUES NEW WARNING TO MIGRANTS AS BORDER PATROL MAKES RECORD APPREHENSIONS AHEAD OF TITLE 42 END
Around the same time of Cruz's stern rebuke, Sec. Mayorkas released his own statement claiming that the U.S.-Mexico border remains secure and affirmed Border Patrol agents would continue to remove migrants.
"The border is not open," Mayorkas said in a video. "Starting tonight, people who arrive at the border without using a lawful pathway will be presumed ineligible for asylum."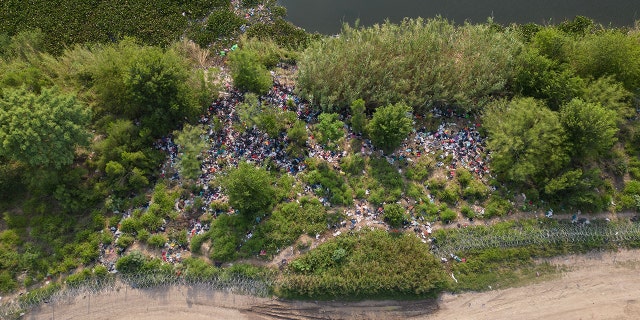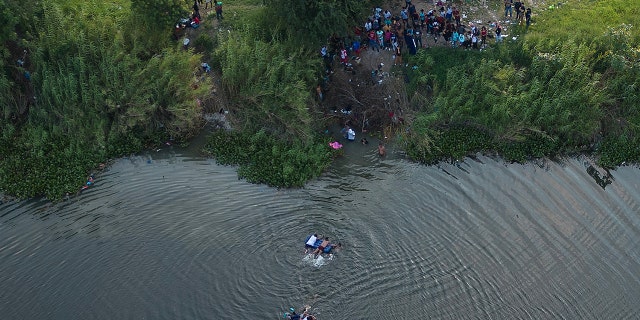 He added: "We have 24,000 Border Patrol Agents and Officers at the Southwest Border and have surged thousands of troops and contractors, and over a thousand asylum officers to help enforce our laws. Do not believe the lies of smugglers."
AS MIGRANT WAVE HITS THE BORDER, MAYORKAS SAYS IT WILL 'TAKE TIME' FOR RESULTS OF TITLE 42 PLAN TO BE REALIZED
Immigration officials have warned for weeks that the expiration of Title 42 public health order, a COVID-era rule that autrized border officials to swiftly remove migrants, would prompt a surge of migrants to the border.
Customs and Border Protection agents have encountered more than 10,000 individuals at the border on Monday, Tuesday and Wednesday of this week, just before Title 42's expiration, sources told Fox News.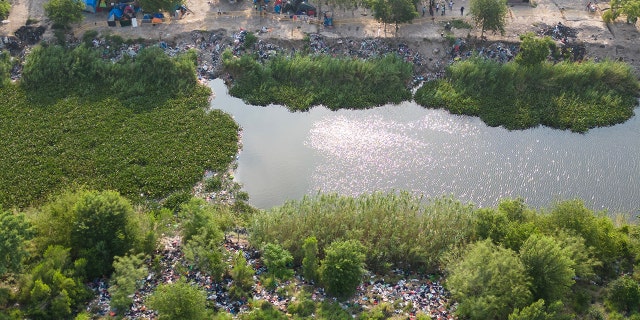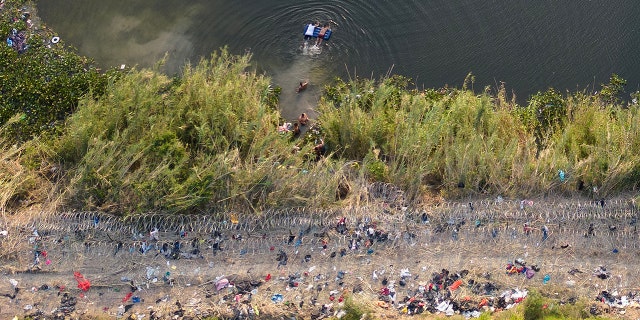 Each of these is the highest-ever single-day record. Officials have predicted the border could see as many as 14,000 migrants daily after Title 42 expires.
Lawmakers in Congress,
both Republicans and Democrats, have criticized President Biden's handling of border security between the U.S. and Mexico.