White House takes aim at DeSantis for signing concealed carry bill after Nashville shooting
Jean-Pierre said the new law in Florida 'is the opposite of commonsense gun safety'
White House press secretary Karine Jean-Pierre lashed out Monday at Florida Gov. Ron DeSantis after he signed gun legislation into law "behind closed doors," a move she says is against "commonsense" when it comes to gun safety.
"It is shameful that so soon after another tragic school shooting, Florida Governor Ron DeSantis signed into law a permitless concealed carry bill behind closed doors, which eliminates the need to get a license to carry a concealed weapon," Jean-Pierre wrote in a series of tweets Monday evening.
"This is the opposite of commonsense gun safety. The people of Florida — who have paid a steep price for state and Congressional inaction on guns from Parkland to Pulse Nightclub to Pine Hills — deserve better," she added.
DESANTIS' SIGNATURE TIPS US INTO MAJORITY 'CONSTITUTIONAL CARRY' NATION WITH NEW FLORIDA GUN RIGHTS LAW
Jean-Pierre's Twitter comments came one week after a transgender former student opened fire and killed six people in a private Christian school in Nashville, Tennessee.
Head of School Katherine Koonce, 60; substitute teacher Cynthia Peak, 61; and custodian Mike Hill, also 61, were killed in the gunfire at The Covenant School. Three 9-year-old students were also killed: Hallie Scruggs, Evelyn Dieckhaus and William Kinney.
Jean-Pierre reiterated President Biden's commitment to "ban assault weapons and high capacity magazines" in her Monday tweets targeting DeSantis.
".@POTUS has been clear: too many lives are being ripped apart by gun violence," she wrote. "He continues to call on Congress to ban assault weapons and high capacity magazines, require safe storage of firearms, eliminate gun manufacturers' immunity from liability, and require background checks for all gun sales, and for state officials to take action at the state level."
FLORIDA LAWMAKERS SEND DESANTIS 'MOMENTOUS' BILL THAT WOULD MAKE MAJORITY OF US STATES 'CONSTITUTIONAL CARRY'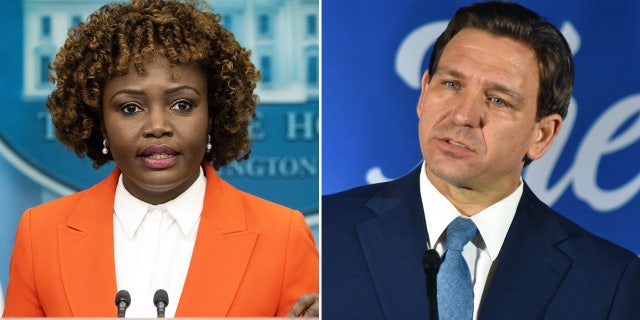 DeSantis, a likely contender in the 2024 race for the White House, signed a bill into law Monday that eliminates the requirement for an individual to obtain a permit to carry a concealed firearm.
The Florida Senate voted 27 to 13 last week on the constitutional carry bill, sending the legislation to DeSantis, who signed it into law on Monday morning. There were already 25 states that had permitless or "constitutional carry" laws on the books, meaning Florida tipped the U.S. into becoming a constitutional carry-majority nation.
The law allows eligible citizens 21 years of age and up to carry without asking the government for a permit and without paying a fee. The legislation does not change who is eligible to obtain a carry permit, and those who still wish to get a permit may do so under the law.
"The NRA applauds Florida for becoming the 26th state to adopt the vital Constitutional Carry legislation. This NRA-spearheaded initiative empowers Floridians to exercise their Second Amendment rights without undue bureaucratic barriers, affirming the fundamental right to self-defense," NRA-ILA interim executive director Randy Kozuch told Fox News Digital after DeSantis signed the legislation.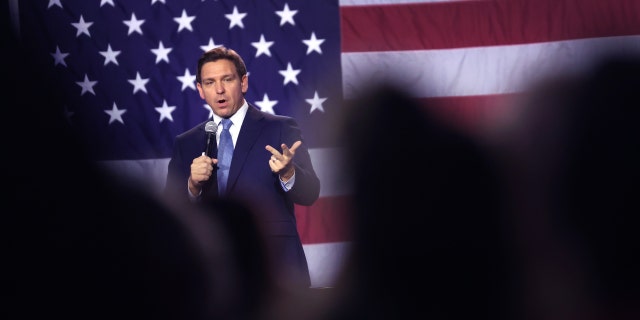 The law will go into effect on July 1, 2023.
Neighboring Georgia became the 25th state with a constitutional carry law on the books when Gov. Brian Kemp signed a similar bill nearly one year ago.