Shane McMahon suffers torn quad in surprise WrestleMania 39 appearance
McMahon hadn't appeared in a WWE ring since January 2022
Shane McMahon made a surprise return at WrestleMania 39 but it didn't appear to go as planned.
McMahon, who hasn't been on WWE TV since January 2022, made the shocking return to take on The Miz in an impromptu match. Much like Saturday night, Snoop Dogg thrust The Miz into the match. McMahon came out and thanked the crowd for the reception.
CLICK HERE FOR MORE SPORTS COVERAGE ON FOXNEWS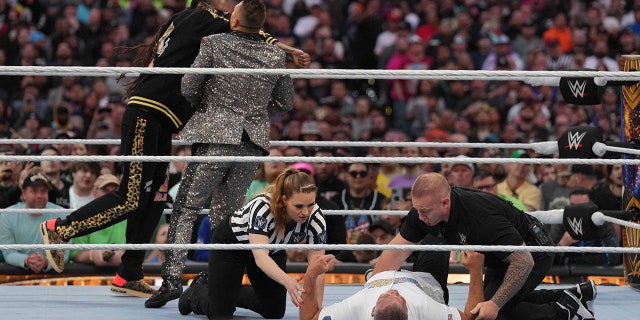 He would whip The Miz into the ropes and jump over him as ran across the ring. As McMahon landed, it appeared he injured his knee and it didn't appear to be a part of any angle.
As McMahon was being checked on, Snoop Dogg had to improvise and he got involved in the match. He nailed The Miz with a right hand.
Snoop Dogg then performed The People's Elbow and pinned The Miz for the victory in a chaotic scene.
GUNTHER'S INTERCONTINENTAL CHAMPIONSHIP REIGN STAYS INTACT WITH WIN AT WRESTLEMANIA 39
Triple H, WWE's Chief Content Officer, said at the post-event press conference that McMahon tore his quad.
It's the second consecutive night The Miz was put into an impromptu match even as he served as the host for WrestleMania at SoFi Stadium.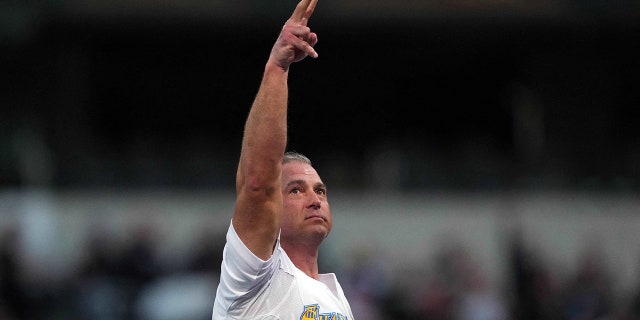 On Saturday, San Francisco 49ers star George Kittle was sitting ringside with his wife when The Miz came over to talk trash to the superstar tight end who was on the cusp of making the Super Bowl for the second straight season. After Kittle dismissed him, The Miz pushed Kittle back down onto his seat.