NRA sues Democrat governor over Washington state's new 'blatantly unconstitutional' gun ban
NRA complaint was filed the same day Gov Jay Inslee signed a bill into law banning the sale of semiautomatic firearms
The NRA filed a lawsuit in Washington state following Democratic Gov. Jay Inslee signed a sweeping gun package into law, which includes a ban on so-called assault weapons.
"This new law is blatantly unconstitutional. The Supreme Court long-ago ruled that states cannot ban firearms that are in common use," Aoibheann Cline, Washington state director of the NRA-ILA, said of the lawsuit filed Tuesday in Washington state, Fox News Digital has exclusively learned.
Inslee signed three gun control bills on Tuesday, including House Bill 1240, which took effect immediately in banning the sale and manufacture of 50 types of semiautomatic rifles, including AK-47s and AR-15s.
"No one needs an AR-15 to protect your family," Inslee said Tuesday. "You only need it to kill other families."
WASHINGTON GOV SIGNS BIG GUN CONTROL PACKAGE, INCLUDING 'ASSAULT WEAPONS' BAN: 'NO ONE NEEDS AN AR-15'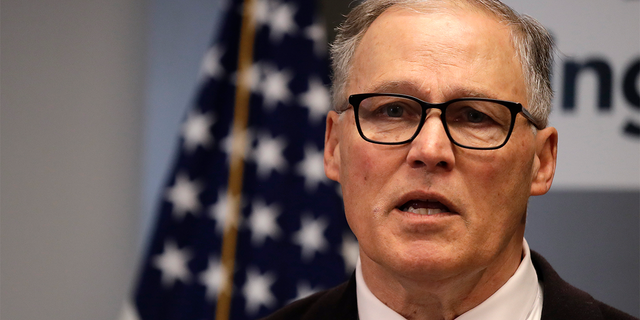 The NRA's lobbying arm, NRA-ILA, filed the suit Tuesday - which specifically targets the ban on semiautomatic firearms - in the Eastern District of Washington on behalf of individual plaintiffs and the National Shooting Sports Foundation. The suit names Washington Attorney General Bob Ferguson and Washington State Patrol Chief John R. Batiste as defendants.
The NRA described HB 1240 as the "worst of such schemes in the country," that surpasses gun restrictions in California, citing how the law bans "nearly every modern semiautomatic rifle" that also extends to some semiautomatic handguns and shotguns. The NRA noted that semiautomatic firearms are owned by tens of millions of Americans for self-defense, hunting and recreational purposes.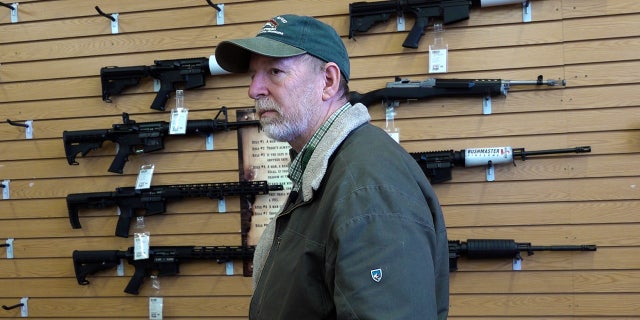 "Recently, SCOTUS bolstered that ruling in NYSRPA v. Bruen. AR-15-style firearms are the most popular rifles in America. In fact, AR-15s outsell America's most popular truck, the Ford F-150, and there are more privately owned AR-15-style firearms than subscribers to all daily newspapers nationwide, combined," Cline continued.
WHITE HOUSE, GUN CONTROL GROUPS PRAISE WASHINGTON GOV'S GUN SAFETY LAWS AS 2ND AMENDMENT GROUPS FILE LAWSUITS
Another bill signed by Inslee on Tuesday, Senate Bill 5078, gives the state attorney general and private parties the ability to sue gun manufacturers to recover damages over criminal misuse of firearms. The third bill, House Bill 1143, requires a 10-day waiting period and safety training for gun purchases.
Both Inslee and Washington Attorney General Bob Ferguson pushed for the bills' passages, with Inslee saying Tuesday that the state is leading "the country in so many ways," including on gun restrictions.
"I'm not sure any state has ever taken three steps on one day," Inslee said.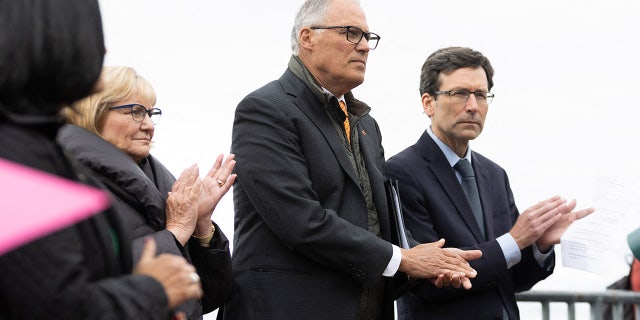 "These are three victories, not one, and it is clear why we need to take this action," Inslee argued before signing the bills into law. "These weapons of war of assault weapons have no reason other than mass murder. Their only purpose is to kill humans as rapidly as possible in large numbers."
WASHINGTON DEMOCRATIC GOV. INSLEE WANTS TO MAKE LYING A CRIME IN CERTAIN CIRCUMSTANCES
Cline charged that "instead of arresting, prosecuting and punishing criminals," the governor is "focusing on restricting the rights of law-abiding Americans who use these rifles for a variety of lawful purpose.
Other states have imposed similar measures, such as in Illinois and Oregon, which the NRA is also challenging in the courts.
GUN STORE 'RUNNING OUT OF ALMOST EVERYTHING' AS 'ASSAULT WEAPON' BAN LOOMS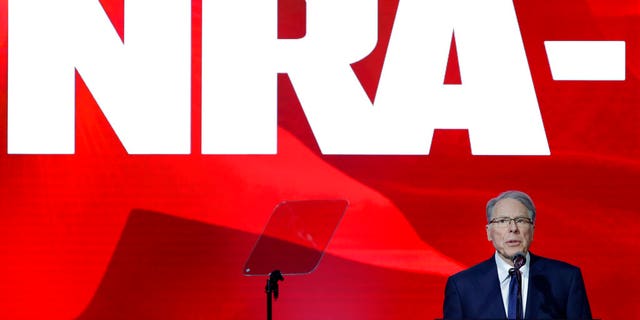 "It's outrageous that states continue to pass these unconstitutional bans. But rest assured, the NRA will continue to fight each one," Cline said, noting that the "people of Washington deserve better."
The governor's office and attorney general's office did not immediately respond to Fox News Digital's inquiries on the complaint and Cline's comments.
A spokesman for Washington State Patrol, whose chief was named as a defendant in the suit, told Fox News Digital that the job of the law enforcement agency is to enforce laws enacted by state leaders.
"Our answer to questions about the laws of Washington are simple and consistent across all issues and matters of public debate," State Patrol spokesman Chris Loftis said. "The job of the Washington State Patrol is to always dutifully enforce the laws of the state as they are written by the Legislature and signed into law by the Governor. Questions of constitutionality are the domain of the judicial branch. Simply put - absent court orders to the contrary, we enforce the laws of the State of Washington."
The gun package has been hit with another lawsuit from the Second Amendment Foundation, which argues lawmakers violated the Second Amendment with the ban on semiautomatic firearms.