McCarthy, Taiwanese president meet, declare strong 'bond' between the two nations
McCarthy and Tsai met at the Reagan Presidential Library in Simi Valley, California
House Speaker Kevin McCarthy and Taiwanese President Tsai Ing-wen declared the relationship between the United States and Taiwan is strong amid "unprecedented" challenges in the Indo-Pacific region.
McCarthy, R-Calif., and Tsai met at the Reagan Presidential Library in Simi Valley, California on Wednesday, along with a group of bipartisan lawmakers.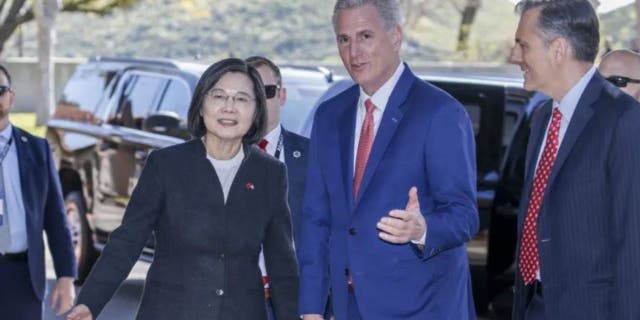 "Today, I'm honored to meet with Taiwan's President Tsai as she transits the United States," McCarthy said, adding that their discussion took place "fittingly" at the library, which highlights Reagan's belief in "democracy and commitment to the ideals of peace and freedom."
CHINESE EMBASSY SENDS THREATENING LETTER TO CONGRESS OVER TAIWAN MEETING, WARNS IT 'WILL NOT SIT IDLY BY'
"Those values have always served as the bedrock of our friendship with the people of Taiwan and they are more important now than ever before," McCarthy said.
"I believe our bond is stronger now than at any time or point in my lifetime," he added, noting that Tsai is a "great champion of that bond."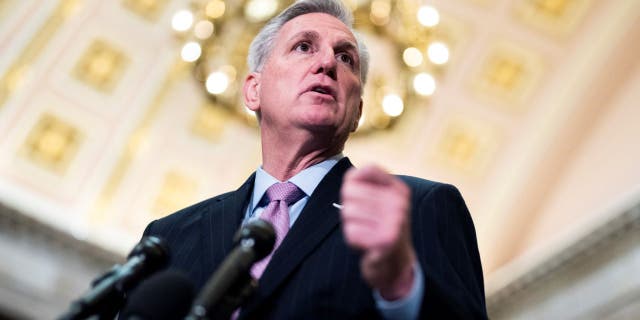 The speaker of the House said the United States "will honor our obligations and reiterate our commitment to our shared values behind which all Americans are united."
McCarthy met with Tsai and a bipartisan group of lawmakers.
Tsai thanked McCarthy and the Republican and Democratic lawmakers who attended the meeting.
"Their presence and unwavering support reassure the people of Taiwan that we are not isolated and we are not alone," Tsai said.
US SAYS CHINA HAS NO REASON TO STEP UP AGGRESSIVE ACTIVITY DUE TO TAIWAN'S STOPOVERS IN THE US
Pointing to the regional challenges, Tsai said "it is no secret" that the "peace that we have maintained and the democracy which we have worked hard to build are facing unprecedented challenges."
Tsai, in the meeting, reiterated Taiwan's commitment to "defending the peaceful status quo, where the people of Taiwan may continue to thrive in a free and open society."
"I also highlighted a belief which President Reagan championed, that to preserve peace, we must be strong," Tsai said. "I would like to add that we are stronger when we are together."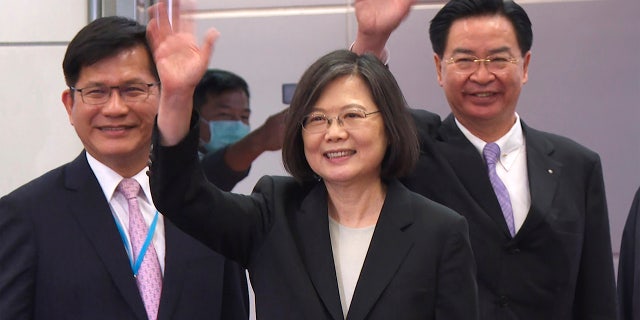 Tsai also thanked members of Congress for their proposed initiatives that have "helped to make Taiwan and our partnership stronger."
"Specifically, initiatives in the realm of enhancing Taiwan's self-defense capabilities, fostering robust trade and economic ties between us, and supporting Taiwan's meaningful participation in the international community, and also to seek out our shared interests in peace and prosperity across the Indo-Pacific," Tsai said.
US DEFENDS SENDING AIRCRAFT THROUGH TAIWAN STRAIT AS CHINA GROWS INCREASINGLY AGGRESSIVE
The meeting Wednesday came after The Chinese Embassy wrote a threatening email to McCarthy and other members of Congress who planned to meet with Tsai Wednesday.
Li Xiang, the embassy's liaison to Congress, wrote a nearly four-page email warning U.S. lawmakers that China views the meeting as a "blatant provocation."
"I have to point out that China will not sit idly by in the face of a blatant provocation and will most likely take necessary and resolute actions in response to the unwanted situation. Let's work together to prevent such a thing from happening," Li wrote, according to a copy of the email obtained by PunchBowl News.
McCarthy's meeting with Tsai came months after former House Speaker Pelosi visited Taiwan, which, according to the Chinese Embassy, "triggered a serious crisis in the China-U.S. relationship."
"Lessons should be learned," the letter read.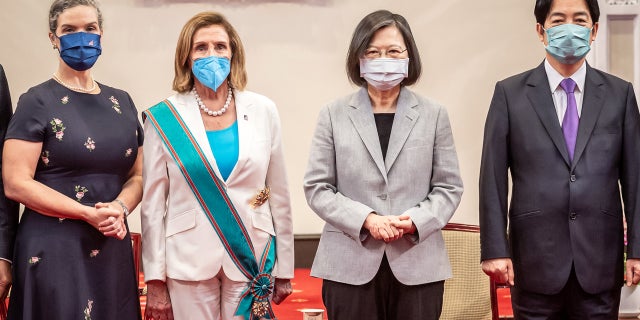 China shut down communications with the United States military after Pelosi visited Taiwan last year. That visit prompted increased aggression by China in the South China Sea and led experts to predict a Chinese invasion of Taiwan by 2024.
China sent a specific warning to McCarthy on Tuesday regarding the meeting, alleging it would break the "One China" policy.
MCCARTHY'S CHINA MISSION: GIVE BIDEN A 'BACKBONE,' 'EMPOWER' HIM TO TACKLE THE CCP THREAT
"If Speaker McCarthy ignores the international community's broad support for the one-China principle, refuses to draw lessons from others' mistakes, and insists on playing the 'Taiwan card,' it will undoubtedly further damage China-US relations, and even strengthen the strong determination of the Chinese people to unite and fight for national reunification," a spokesperson for China's consulate in Los Angeles wrote.
The "One China" policy, adopted by the U.S. and other countries, stipulates that the government of Beijing is the sole legitimate government of China.
Officials and lawmakers have warned that it's only a matter of time before China tries to invade Taiwan, with some arguing that the 2024 U.S. presidential election and the Taiwanese election might have influence on the timing of China's aggression toward Taiwan.