Mayorkas again refuses to call border surge a 'crisis,' says it would indicate 'withdrawal from our mission'
The Biden administration has repeatedly refused to call the historic surge a 'crisis'
Homeland Security Secretary Alejandro Mayorkas again refused to call the ongoing situation at the southern border a "crisis" in an interview, claiming that admitting the situation was a crisis would indicate a "withdrawal from our mission."
Mayorkas was asked during an interview with "60 Minutes" whether he viewed the ongoing situation at the border -- which saw a record 1.7 million migrant encounters in FY 2021 and more than 2.3 million in FY 2022 -- as a crisis.
"I view it as a significant challenge," Mayorkas said, echoing the answer he has given to that question on multiple occasions.
When asked why he would not use the word "crisis," Mayorkas said it was because "I have tremendous faith in the people of the Department of Homeland Security."
HAWLEY PUSHES DHS FOR ANSWERS ON MIGRANT APP HE BRANDS 'CONCIERGE SERVICE' FOR ILLEGAL IMMIGRANTS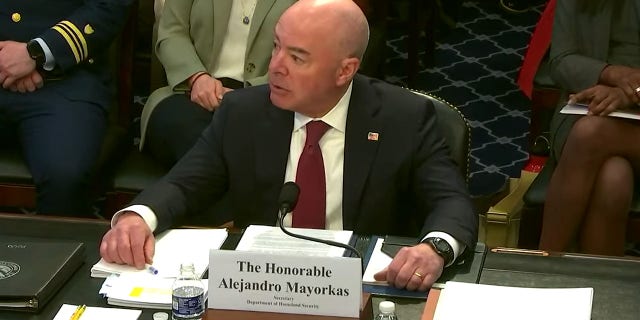 "And a crisis speaks to me of a withdrawal from our mission. And we are only putting more force and more energy into it," he said.
Mayorkas was hammered about the situation at the border during multiple hearings in the Senate and the House this week, which saw a number of Republicans saying he should quit or be fired.
Those hearings saw additional scrutiny on Mayorkas in the wake of a hearing last month featuring Border Patrol Chief Raul Ortiz -- who said that agents did not have "operational control" of the border.
"In five of those nine southwest border sectors, we have seen an increase in flow and that has caused a considerable strain on our resources and really has forced the Border Patrol to move so agents and even migrants to some of the other areas," Ortiz said in response to a question about whether the border is secure.
Ortiz also said that he disagreed with the move to end wall construction and used the word "crisis" to describe the situation.
BORDER PATROL CHIEF SAYS DHS DOESN'T HAVE OPERATIONAL CONTROL OF US BORDER
"The migration flow represents challenges and in some areas, a crisis situation," he said.
Mayorkas was asked specifically if he agreed with those remarks.
"I think that we face a very serious challenge in parts of the border," he said.
HOMELAND REPUBLICANS TO TURN UP THE HEAT ON MAYORKAS AFTER BORDER PATROL CHIEF'S 'EARTH-SHATTERING' TESTIMONY
Republicans have linked the dramatic increase in migrants coming to the border to the Biden administration's policies. The administration has sought to expand legal pathways, but has also ended a number of Trump-era border protections, stopped wall construction, narrowed interior enforcement and expanded "catch-and-release."
The administration has said it is seeking to promote humane and orderly migration and surging resources to the border, while dealing with a crisis that is hemisphere-wide and fixing an asylum system that was gutted by the prior administration. It has also hit Republicans for refusing to agree to a number of border funding requests, including a nearly $5 billion request in December.
CLICK HERE TO GET THE FOX NEWS APP
In the interview, Mayorkas again argued that the surge was not being faced only by the U.S.
"The number of people that are arriving at our border is at an extraordinary height. There's no question about that. But that is not unique to the southern border of the United States. There is a tremendous amount of movement throughout the hemisphere and, in fact, throughout the world," Mayorkas said.