Maryland kitties Glenda and Saturn, two 'super-friendly felines,' are looking for a home together
Two best friends love to cuddle, wrestle and play, says A Cat's Life rescue
Glenda and Saturn, a bonded pair of kittens currently living in a foster home in Maryland, are looking for a new home in which they can continue their friendship for the rest of their lives.
Glenda, a 4-month-old female gray-and-white kitten, is blind — but that does not stop her from living a full life.
"She had a really severe eye infection that resulted in blindness, but she doesn't let that slow her down at all," said A Cat's Life, a rescue organization.
CAT IN MAINE, A 'SWEET, AFFECTIONATE' GIRL WITH DIABETES, SEEKS LOVING HOME
"After lots of love and treatment, she has no discomfort and she's full of classic kitten love and energy," said the rescue.
Glenda was rescued on Halloween. She was in such poor health that the rescue was not sure if she would survive, A Cat's Life told Fox News Digital.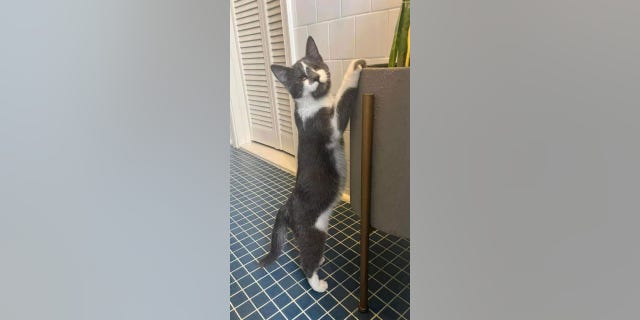 After syringe feeding and two surgeries, "she healed beautifully and is now a seriously sweet, happy cat," said the rescue.
Glenda "follows her foster mom around all day," enjoys hunting her mouse toys and is often seen taking "adorable belly-up naps," the group also said.
TWO SPECIAL KITTIES IN VIRGINIA NEED TO BE ADOPTED TOGETHER: 'THEIR IMPERFECTIONS MAKE THEM PERFECT'
While Glenda is not biologically related to Saturn, a five-month-old male brown tabby, the two are thick as thieves after they met in foster care.
"Saturn is an absolute sweetheart," said A Cat's Life. "He loves to cuddle and especially loves soft blankets to make biscuits on [knead his front paws]."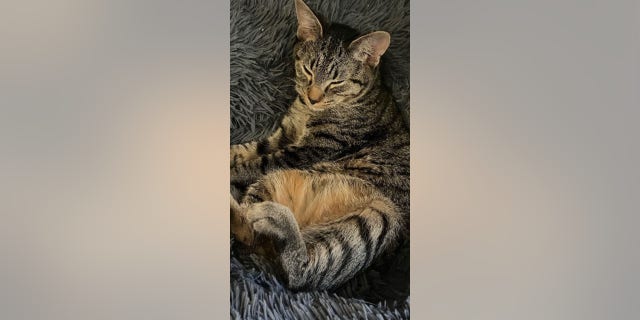 "Every night he follows his foster mom to bed and sleeps next to her all night long," the rescue added.
And while Saturn is a "big boy," the shelter believes "it's because he's full of so much love."
TWO CHUBBY SAN FRANCISCO DOGS ON WEIGHT-LOSS JOURNEY ARE SEEKING A NEW HOME
When the two are not cuddling each other and their foster mother, Glenda and Saturn "love to chase each other, wrestle and play with crinkle balls," said A Cat's Life.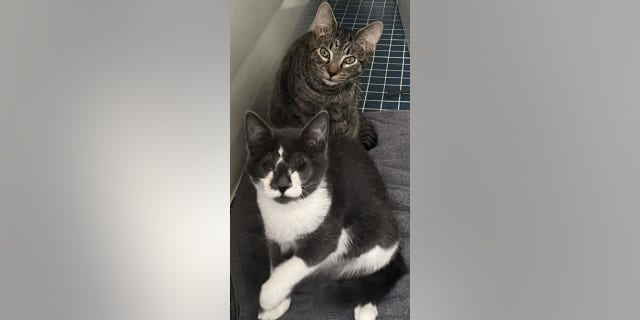 "They love to burn off their kitten energy with each other, so they can cuddle up for cute naps with people once they're tuckered out," it added.
As a bonded pair, Glenda and Saturn must be adopted together. The two get along well with the other cats in the foster home.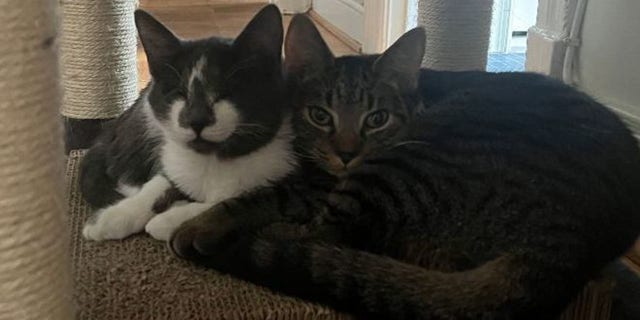 "They're just super friendly felines," said A Cat's Life.

CLICK HERE TO SIGN UP FOR OUR LIFESTYLE NEWSLETTER
Anyone interested in adopting Glenda and Saturn, or any of the other cats available through A Cat's Life, should email info@acatsliferescue.org.