Jennifer Aniston, Adam Sandler's 30-year friendship started with a pickle
Sandler and Aniston star alongside Melanie Laurent, Dany Boon and Mark Strong in Netflix's 'Murder Mystery 2
Adam Sandler and Jennifer Aniston have a special friendship, going back all the way to before either one of them was ever seen on-screen.
The two met in a Los Angeles deli when they were teenagers, and Aniston was dating one of Sandler's friends. They hit it off instantly while sharing a meal at Jerry's Deli, and the rest is history. Sandler was particularly entranced by the way Aniston was eating her pickle.
"She crunched too loud," Sandler once told E! News. "I knew I was going to be friends with her. I didn't know I was going to be making movies with her. We both didn't know that, we were young, and we didn't have jobs quite then."
It was love at first sight for Aniston as well, with the actress telling the outlet: "He takes you in, and I'm very much the same way," saying once you're in, "you become family. It's like second nature."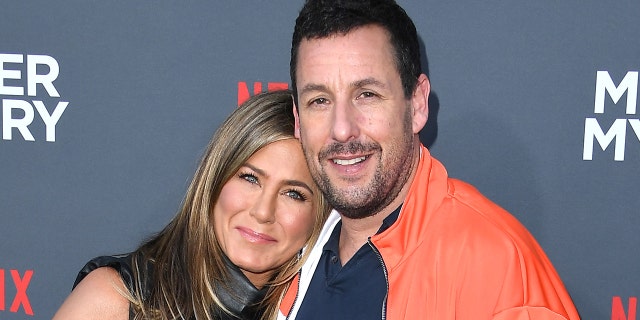 JENNIFER ANISTON SHARES 2022 HIGHLIGHTS FEATURING PAL ADAM SANDLER, CHEEKY BIKINI SNAPS AND MORE
Through hard work, the two friends both made it big in Hollywood, with Aniston finding fame as Rachel Green in "Friends," and Sandler as a cast member on "Saturday Night Live." Both went on to star in a number of comedies, with Sandler starting his own production company, pumping out hit after hit.
Some of Sandler's most popular movies include, "Billy Madison," "Happy Gilmore," "The Wedding Singer," "50 First Dates" and "Grown Ups." Aniston has starred in "Along Came Polly," "He's Just Not That Into You," "The Bounty Hunter," "Horrible Bosses" and "Cake."
While the two have been close friends for many years, they never crossed the line beyond friendship and into a romantic relationship. Sandler married Jacqueline "Jackie" Sandler in 2003 and the couple have two children, Sadie, 16, and Sunny, 14. Aniston famously married Brad Pitt in 2000, however the marriage ended in divorce in 2005. Aniston went on to tie the knot with Justin Theroux in 2015. The couple called it quits three years later.
Aniston and Sandler's friendship inevitably led to the two uniting on camera for the 2011 comedy "Just Go With It," in which Sandler plays a womanizing plastic surgeon and Aniston plays his assistant. In the end, their characters fall in love and live happily ever after.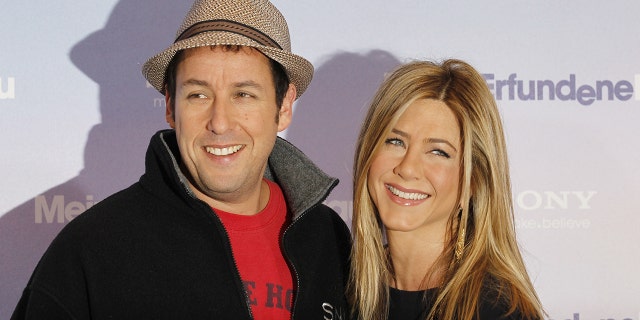 The movie was filmed in Hawaii, which gave Sandler and Aniston a lot of time to bond once the cameras were down, and they had wrapped for the day. Aniston recalled going out to dinner together, hanging out in what they called "the Magic Corner" and spending time by the pool on the weekends, with Sandler clarifying they spent time in separate pools.
"Little Miss Adult Pool, I couldn't bring my kids up there," Sandler explained to ScreenSlam at the time. "I would be right about to go in, and then they'd grab me, and they'd say 'you're not welcome at this pool with your children,' and she would hold up this extra, she had makeup give her this extra long middle finger. It was pretty rough," Sandler joked.
Sandler and Aniston don't need to be cast in a movie together to hang out, as the actress said she often hosts pizza night at her house. Whether Sandler enjoys himself when at her house is a different story.
"We go to Aniston's house a lot. She makes pizzas, gives us M&Ms, and she has a lot of nice TVs. I hide in one of the rooms. She hangs out with my wife and all her other friends. I tend to hide at Aniston's house," Sandler said before admitting he does "have some fun." "My favorite image is when a good song comes on and across the room, I see Aniston hear a good song and start dancing. She's a great dancer."
JENNIFER ANISTON SHARES 2022 HIGHLIGHTS FEATURING PAL ADAM SANDLER, CHEEKY BIKINI SNAPS AND MORE
Shortly after "Just Go With It" was released, Aniston was honored with a star on the Hollywood Walk of Fame. Many friends were there to celebrate her achievement during the February 2012 ceremony, including Malin Ackerman, Kathryn Hahn and Sandler.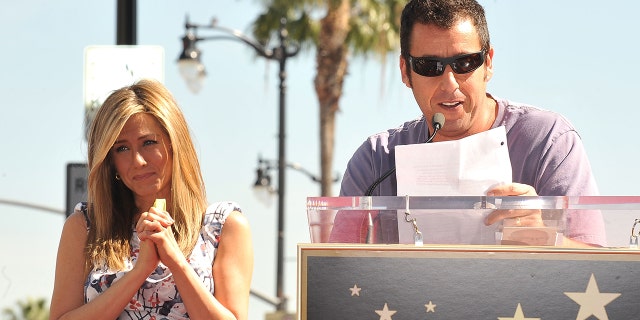 In his speech, Sandler spoke about how much he loves Aniston, admiring her body of work and even made fun of his clothing style, something Aniston teases him about. He joked she would pray as a child "to have everyone in the entire world be fascinated by her haircut, to one day star in a movie about an evil leprechaun who kills people" and to get a star on the Walk of Fame.
"It hasn't been an easy road for that poor little rollie pollie Greek girl. She endured many professional disappointments before landing the part of Rachel Green in a show called 'Friends' at the age of 52," Sandler joked. "But by the time that show ended, she had obtained five special real life friends, a permanent place in America's heart and what we in the business refer to as 'Seinfeld money.'
'