China says it 'hopes and believes' Germany will support its 'peaceful reunification' with Taiwan
The German foreign minister said that a military escalation from China to take control of Taiwan would be a 'horror scenario for the entire world'
A Chinese government diplomat expressed hope that Germany will support its takeover of Taiwan.
Wang Yi, China's top diplomat, made the comments in a statement shared by the Chinese foreign ministry on Saturday, stating that he "hopes and believes" the European country will support its "peaceful reunification" with Taiwan.
During a meeting with German Foreign Minister Annalena Baerbock in China, Wang said that China once supported the reunification of Germany.
"To maintain stability in the Taiwan Strait, it is necessary to firmly oppose separatist activities related to 'Taiwan independence'," Wang said.
CHINA SANCTIONS US LAWMAKER FOR HIS VISIT TO TAIWAN, CLAIMING HE VIOLATED 'ONE CHINA' PRINCIPLE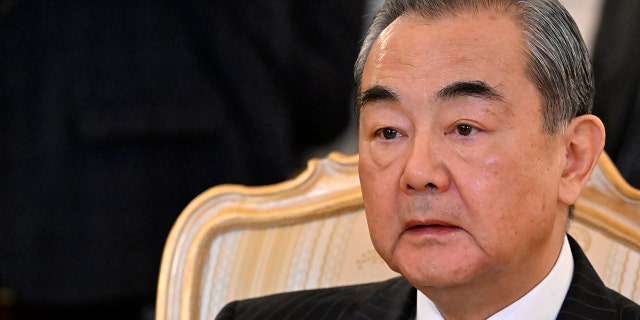 Wang added that Taiwan's "return to China" was an important part of the post-World War II international order.
Baerbock said on Friday that any attempt from China to gain control of Taiwan would come with serious repercussions for Europe.
"A military escalation in the Taiwan Strait, through which ... 50% of world trade goes every day, would be a horror scenario for the entire world," said Baerbock.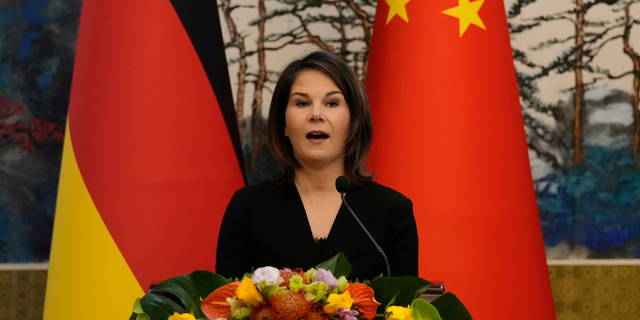 Baerbock added that any potential military escalation would have "inevitable repercussions" for interests in Europe.
Her comments are seemingly at odds with what President Emmanuel Macron said following a trip to China on Sunday, urging Europe to avoid following the "American rhythm" on Taiwan.
BIDEN NOT MOVING WITH 'APPROPRIATE SENSE OF URGENCY TO PREVENT WORLD WAR III,' SAYS CHINA COMMITTEE CHAIRMAN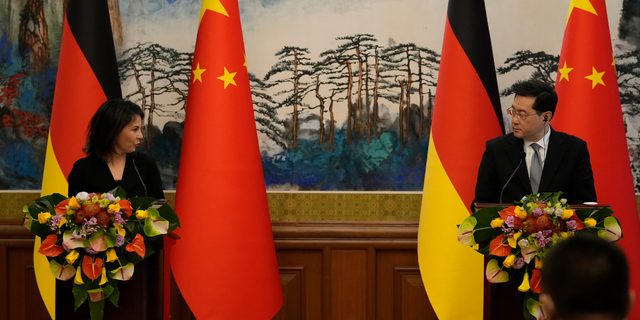 "We don't want to get into a bloc versus bloc logic," Macron said during an interview with Les Echo, adding that Europe "should not be caught up in a disordering of the world and crises that aren't ours."
"The question asked of us Europeans is the following: is it in our interest for there to be acceleration on the topic of Taiwan? No. The worst thing we Europeans could do would be to be followers on this topic and to adapt to the American rhythm and a Chinese overreaction," Macron said. "Why should we go at a rhythm chosen by someone else?"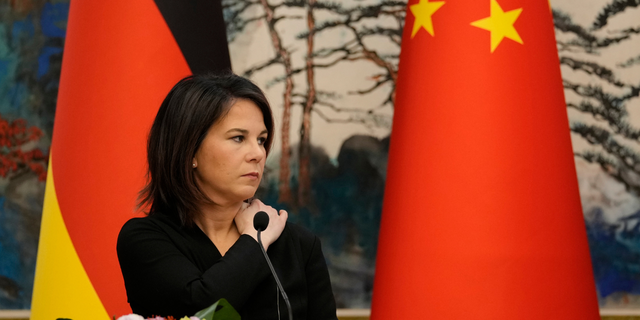 In a statement, Taiwan's Foreign Ministry said that it strongly approved of the German foreign minister's statement.
"The Foreign Ministry thanks many high-level officials in the executive departments of various countries, including Germany, for their solidarity with Taiwan," the statement reads.