Possible tornadoes reported as storms push through Midwest and South
Another round of thunderstorms was taking aim at the same area affected by severe weather that killed 32 people from the South to the Midwest over the weekend.
Severe storms were possible into Wednesday across an area from the Great Lakes to the Gulf Coast, the National Weather Service said.
"Weather conditions in these areas could be life-threatening at times," it said in a forecast discussion Tuesday.
There were more than a dozen reports of possible tornadoes in Illinois and Iowa on Tuesday, according to the weather service, including one possible twister in Henry, Illinois, that reportedly ripped the roof off a gas station and tossed it into a brick building.
Storm surveys are typically conducted to determine whether tornadoes actually touched down, and if so how many.
The weather service office in Lincoln, Illinois, warned of a tornado in an area north of Bryant, a village about 42 miles outside Peoria. Reports of any injuries and damage estimates were unavailable.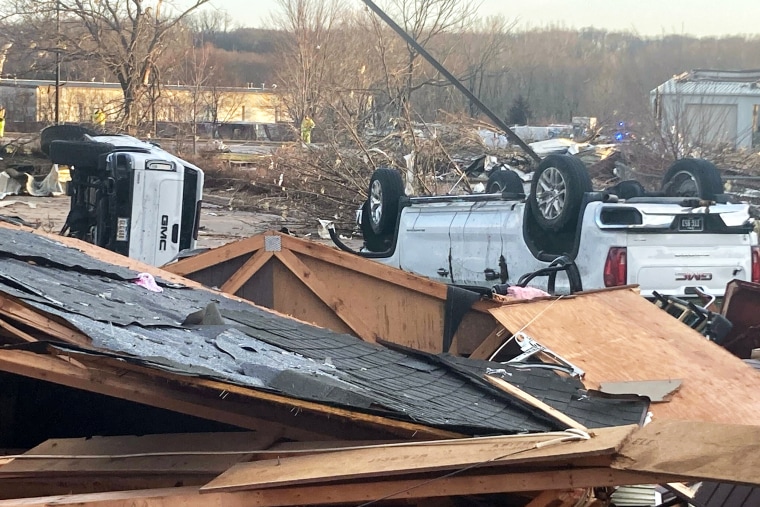 In Chicago, the fire department said it responded to at least three reports of roof damage after a "localized but high wind force storm" passed through the city. No injuries were reported, but trees were felled and power poles were also damaged, it said.
Chicago O'Hare International Airport, which on Tuesday had been under a severe thunderstorm warning, had 86 departing flights canceled and 404 delayed, according to the flight tracking site FlightAware.
In western Illinois, a 90 mph gust was recorded in Moline, about 165 miles west of Chicago.
An estimated 42 million were under the risk of severe storms Tuesday, according to NBC News' weather unit. That grows to around 62 million people Wednesday, as the storm system stretches from northern Michigan to northern Louisiana.
The weather service's forecast map for Wednesday's most intense weather has shifted eastward and broadened since Monday. It now encompasses an area east of Dallas and extends northeast along a diagonal swath parallel to the Appalachian Mountains. It reaches Chicago and even parts of New York state.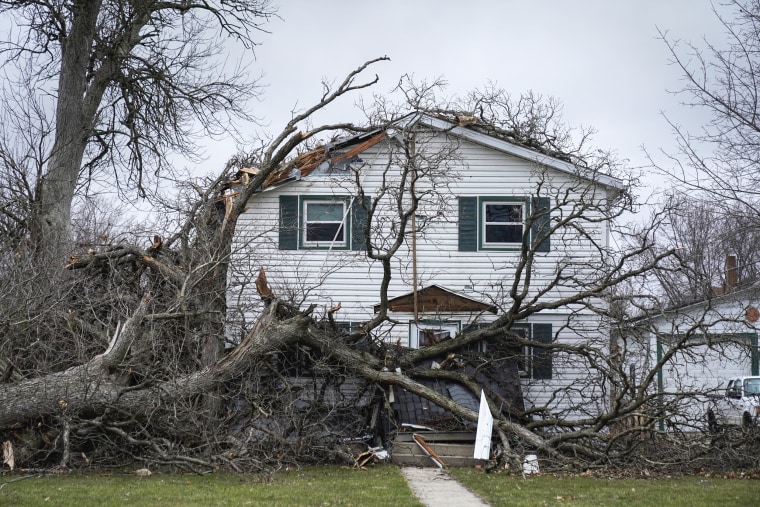 Cities most likely to get severe weather Wednesday include Chicago; Detroit; Indianapolis; Columbus, Ohio; and Memphis, Tennessee, according to the weather service.
"Potential storm hazards include strong tornadoes, damaging winds, large hail, and locally heavy rainfall and flooding," the weather service said in an outlook report Tuesday.
In Wyoming, the Dakotas and Minnesota, the same front was expected to produce blizzard conditions and the possibility of record amounts of snow — as much as 2 feet in places — for April, according to the weather service and the NBC News weather unit
In the Dakotas, blizzard warnings covered most of both states late Tuesday. Near Sisseton, South Dakota, a semi loaded with cattle tipped over, and the state Highway Patrol urged people to stay home unless travel was absolutely necessary.
Many of South Dakota's state employees worked from home Tuesday under an order from Gov. Kristi Noem, who said the weather front's snow and wind would make traveling to workplaces difficult and dangerous. Some highways were being shut down at nightfall as a precaution.
"Citizens should be prepared to stay home if possible," Noem said in a statement.
Parts of Custer County in South Dakota recorded 24 inches of snow over the previous 36 hours, the weather service in Rapid City said Tuesday night, and 30 inches was recorded in Fall River County.
The Red River Valley region that includes parts of North Dakota and Minnesota were seeing snowfall rates of up to 2 inches per hour Tuesday night, forecasters in Grand Forks, North Dakota said.
Experts say the continental U.S. and the South in particular have the weather misfortune of being where cold fronts from Canada and Pacific storms move south and east and clash with tropical air from the Gulf of Mexico, creating an annual cauldron of stormy weather.
But climate change could be making the extremes worse, resulting in colder cold fronts, stronger tornadoes and bigger hailstones in spring, as well as longer, hotter streaks in summer, they have said.
In mid-March, the National Oceanic and Atmospheric Administration's spring outlook called for moderate to major flooding from Minneapolis to St. Louis even as drought continued in the northern and central Plains.
"Climate change is driving both wet and dry extremes," NOAA Administrator Rick Spinrad said in the outlook