Miley Cyrus and Dolly Parton's 'Rainbowland' nixed from Wisconsin school concert for being 'controversial'
Parton and Cyrus told outlets the song is about acceptance, kindness and coming together
A Wisconsin elementary school is buzzing in the news after nixing students' performance of Miley Cyrus and Dolly Parton's duet "Rainbowland" from its spring concert after an administrator deemed the song inappropriate for school.
Waukesha-area Heyer Elementary School received backlash after first grade students, who had planned and rehearsed the song to perform among a setlist of songs at an upcoming concert, came home disappointed that the song had been cut.
The Los Angeles Times reported that one parent's daughter came home, excited to show her mom all the songs she and her classmates had prepared to perform at the show and "Rainbowland" was among them.
PENNSYLVANIA SCHOOL BOARD AXES 'INAPPROPRIATE' ADDAMS FAMILY MUSICAL: 'THE THEMES ARE JUST DARK'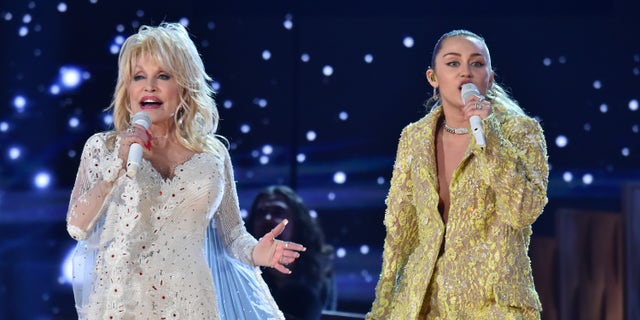 "We love Dolly Parton!" mom Sarah Schindler said, according to the outlet, relaying that she and her daughter were ecstatic that the song made the list.
But her daughter came home with more dismal news later, telling her that not only had "Rainbowland" been cut from the repertoire, but so had Kermit the Frog's "Rainbow Connection," a song popularized by "The Muppet Movie."
Schindler wanted to know why.
Superintendent Jim Sebert told multiple outlets that the song could potentially be deemed controversial and others, including Schindler, alleged the local school board's "conservative flip" brought about policies that sought to eliminate rainbow imagery that induces thoughts of LGBTQ+ themes and the songs were removed from the setlist in consequence of the change
FLORIDA SCHOOL BANS TEACHING CRT, GENDER FLUIDITY, AND 'MAINSTREAM NARRATIVE SURROUNDING COVID'