The Story of Marshall Taylor: The First African-American Cycling World Champion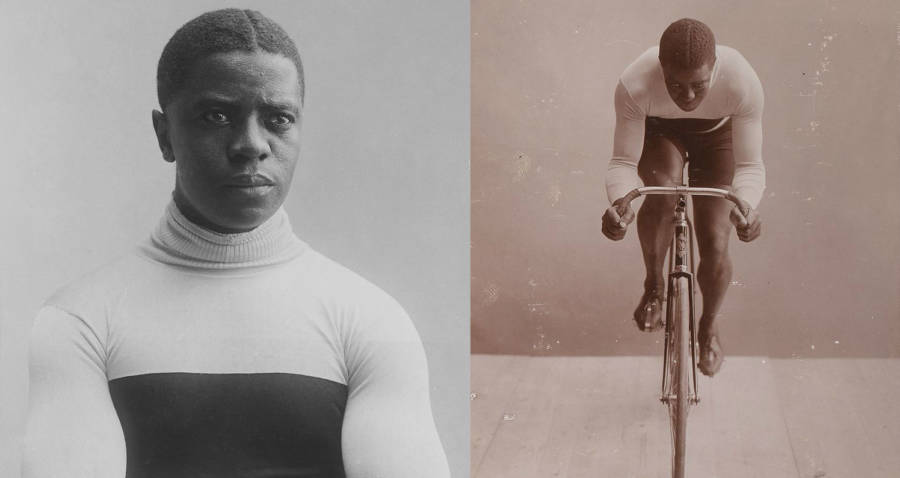 Marshall Taylor ca. 1906-1907.
Nicknamed the "Black Cyclone," Taylor defied all the odds when he won the title of World Cycling Champion in 1899.
Few people in sports have achieved as many accolades as Marshall "Major" Taylor, and even fewer have done it while facing the violent, consistent stream of racism that Taylor endured. Despite this, Marshall Taylor became the first African-American cycling world champion. His color-barrier breaking athletic achievements have cemented his name in the sporting history books, however, the story of his triumphant and tragic life remains relatively untold.
Marshall Taylor Childhood
Taylor was born into an impoverished family on Nov. 26, 1878, in Indianapolis, Ind. His father, Gilbert, was the son of a slave and a Union soldier who worked for the Southards, a wealthy family in Indianapolis.
Taylor frequently joined his father at work and became very close to the Southard's son, Dan. The wealthy, white family raised Taylor in their home and even gave him his first bicycle.
But Taylor was thrust back into the reality of his situation when the Southards moved to Chicago and he had to stay behind with his impoverished family in Indianapolis.
He pedaled miles a day working as a paper delivery boy and also worked by performing tricks outside of a local bicycle shop called Hay and Willits in an effort to attract more business for the shop. Taylor performed in a military uniform which earned him the nickname of "Major."
Taylor's cycling career first began as just an attempt to draw in customers for the local bicycle store but Tom Hay, one of the shop's owners, entered Marshall Taylor into a ten-mile bicycle race as a publicity stunt. Taylor caught everyone by surprise when he not only finished the race but won it by six seconds. And that's when the legendary cyclist's career really began to take off.
Birth Of The "Black Cyclone"
Taylor began to compete across the Midwest and continued to work in the bicycle store, but found himself shut out from joining any local riding clubs because white members who were not on board with a black man joining.
Marshall Taylor luckily found a mentor in Louis D. "Berdi" Munger, the owner of the Worcester Cycle Manufacturing Company in Worcester, Mass.
In August 1896, Munger entered Taylor into a whites-only race in Indianapolis, and even though he couldn't officially compete, he made a huge impact. During the competition, Taylor set a new world record in the one-fifth mile race when he shaved off two-fifths of a second off the previous record held by Ray McDonald. The run, even though it was record-breaking, caused him to be banned from the Indianapolis track.
Later that same year, Marshall Taylor went to New York City's Madison Square Garden to compete in his first six-day race. At the end of the grueling event, Taylor cycled a total of 1,732 miles for an eighth-place finish. At this point, Taylor had officially made his name known in the worldwide cycling community and people began calling him the "Black Cyclone".
Following Taylor's success in New York City, Munger took him to Worcester to be the focal point in a new cycling team. But shortly after moving to Massachusetts, Taylor's mother died. Her death inspired him to be baptized. His religious convictions would bring him through the hardships of his career as well as inform on how he would race.
Before his 20th birthday, Taylor had already collected seven world records and soon after, captured the coveted and barrier-breaking title of World Cycling Champion in 1899. Taylor was only the second African-American athlete to ever win a world champion title.
Despite his new title and fame, Taylor still faced cruel racism. He was blocked from competing in races in the South and in the rare instances when he was allowed to compete, some of his white competitors made their disdain for him known on the course. One particularly scary incident against Taylor came at the end of a one-mile race in Massachusetts. W. E. Becker came in third after Taylor and following the race, he brutally attackedhim.
"Becker choked him into a state of insensibility and the police were obliged to interfere," during the time of the incident. "It was fully fifteen minutes before Taylor recovered consciousness, and the crowd was very threatening toward Becker."
Taylor's advisors begged him to consider leaving the United States to race in Europe, where racial tension and violence were less prevalent, but Taylor refused. The major race days in France were held on Sundays and Taylor's religious beliefs kept him from competing on that day. Eventually, the European promoters switched the race days in order to accommodate Taylor and he began racing on the European tour.
Around the same time, Taylor married Daisy Morris and their daughter Rita Sydney was born two years later in 1904.
Later Life And Legacy
Taylor dominated the cycling world for the first decade of the twentieth century. He retired at the age of 32 in 1910. It is reported that he made $30,000 a year, which made him one of the wealthiest athletes, white or black, of his time.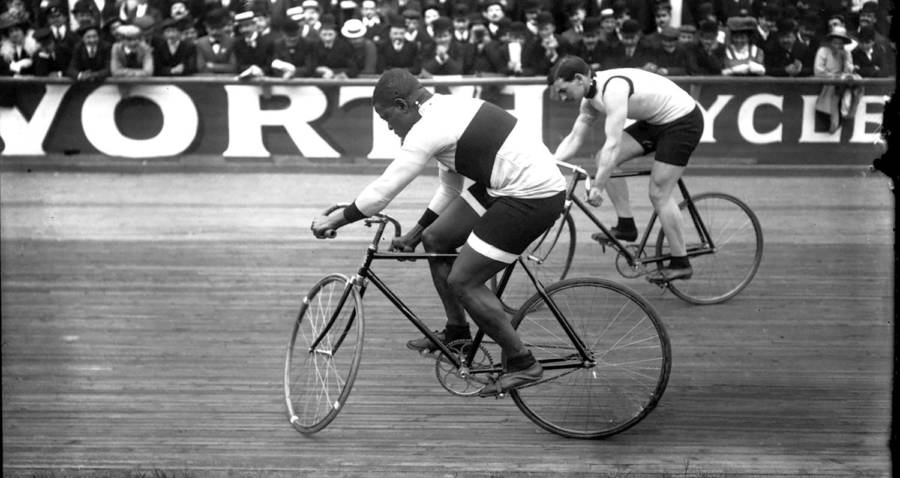 Marshall "Major" Taylor and Léon Hourlier at the Vélodrome Buffalo in 1909.
However, life after retirement proved to be tough for Taylor. His marriage crumbled after losing most of his money in bad investments and the Wall Street crash of 1929, and he became estranged from his daughter. The last years of his life were spent selling his self-published autobiography, The Fastest Bicycle Rider in the World, door-to-door in Chicago while he lived at a local YMCA.
Marshall Taylor passed away in 1932 at the age of 53 in the charity ward of a Chicago hospital. Since he was estranged from his wife and daughter, his body was unclaimed and eventually buried in a pauper's grave at the Mount Glenwood Cemetery in Chicago.
However, in 1948 after hearing about the location of Taylor's grave, a group of former pro racers with the financial backing of Schwinn Bicycle Company owner Frank Schwinn, moved his remains to a more prominent section of the cemetery.
Recognition of Taylor's groundbreaking achievements went largely unrecognized during his lifetime, but in recent decades he began to posthumously be given the accolades he deserved.
Taylor Marshall was inducted into the United States Bicycling Hall of Fame in the 1980s. Also in that decade Indianapolis, the city that once banned him from competing, built the Major Taylor Velodrome in honor of the trailblazing cyclist.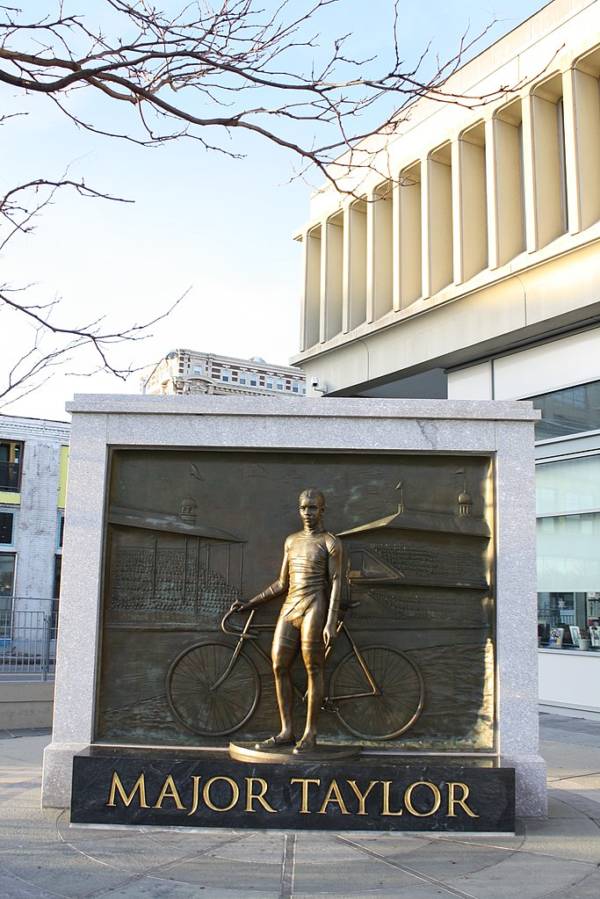 Marshall "Major" Taylor Statue outside of Worcester Public Library.
Marshall Taylor was also awarded the Korbel Lifetime Achievement Award by USA Cycling. His adopted hometown Worcester, Mass. honored him by constructing a statue of Taylor next to his bike outside of their town's library. This firmly cemented Taylor's rightful place in history.